Poppies for Memorial Day
Just before Memorial Day is a fitting time of year for my Flanders Poppy to bloom. They were blooming when the poem "In Flanders Fields the Poppies Blow" was written by John McCrae during World War 1 on May 3, 1915. He had just officiated at the funeral of a fellow soldier and friend who had died in

the Second Battle of

Ypres. He had noticed that fields of these red poppies quickly spang up around the graves of those who had died in Ypres.
Flanders Red Poppies, © B. Radisavljevic
In Flanders Fields
In
Flanders fields
the poppies blow
Between the crosses, row on row,
That mark our place; and in the sky
The larks, still bravely singing, fly
Scarce heard amid the guns below.
We are the Dead. Short days ago
We lived, felt dawn, saw sunset glow,
Loved and were loved, and now we lie
In
Flanders fields
.
Take up our quarrel with the foe:
To you from failing hands we throw
The torch; be yours to hold it high.
If ye break faith with us who die
We shall not sleep, though poppies grow
In
Flanders fields
.
The battle itself had been a gut-wrenching experience. McCrae described it as a nightmare that lasted for seventeen days and nights filled with the sights, sounds, and smells of the warfare itself and the wounded, dead, and dying. Most of us can't even imagine the horror of this assault on their senses, and the emotional impact of seeing your friends die around you and wondering if you would be next.
We Must Not Forget Those Who Sacrificed for Our Freedom
Although McCrae describes this particular battle, these experiences would be very similar to what hundreds of thousands of war veterans and those still in harm's way could describe more graphically if they wanted to, but most would prefer to forget them. We must not. Those who laid their lives on the line to protect the freedom we enjoy in America, Canada, the United Kingdom, and the rest of free Europe deserve to have their sacrifices remembered.
Those who survived battle and are still among us have memories most of us would never want to live with. Many veterans are reluctant to speak of the war experiences that they will never be able to completely put behind them. What they did has allowed the rest of us who have not experienced these horrors to live unburdened by the memory of them. We can never repay our debt to them. But we can speak up and insist our government keep its promises to them for timely and competent medical care.
We cannot do anything for those who gave all they had, except to remember them and fight as citizens to preserve the freedom they died for.
But we can thank those who have survived the battles and carry physical or mental scars. Why not send a veteran you know a note and thank him or her for the part of his or her life given in service.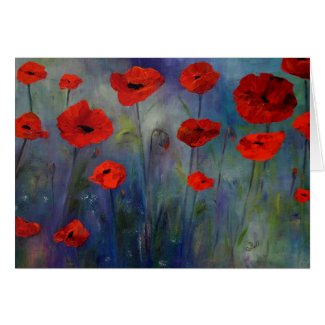 Red Poppies Blue Fog Fine Art Card
Make custom notecards at zazzle.com
Information on John McCrae come from Wikipedia.
Note: I was surprised to see the poppy in the introductory photo spring up in one of my flower beds. I may have planted some seeds there, but if so, I have forgotten them. Later I found the seedling next to my Sweet Williams -- just one seedling. I was delighted. I'm going to keep the flowers picked so I can keep this blooming as long as possible. When it looks like the end is near, I'll let the plant reseed. I'd love to fill my empty spaces with these next year.