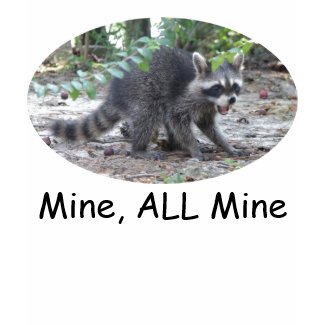 Hungry Raccoon - Mine ALL Mine T-Shirt
by
naturegirl7
Browse other
Raccoons T-Shirts
Though I haven't had much time to blog lately, I have been in the garden watering every day and trying to provide what my ailing plants need. On Saturday I gave anything that looks unhealthy some tea made from my worm castings. The tomatoes are getting a bit greener, but they aren't getting any bigger. Many of the tomatoes in the pots and new raised bed have green tomatoes, but some have yellowing leaves, and that worries me.
The weather has been in the high 80s and into the 90s this last couple of days, including today. That appears to make the squash and cukes happy. Still have to hand-pollinate the squash, but at least that works.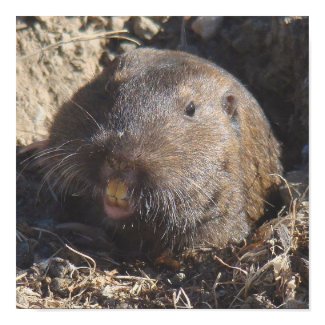 Gopher Poster
by
naturalphotos
View other
posters
at Zazzle
It appears that the gophers aren't my only enemy. The raccoons have been nosing around the raised beds at night, too. My neighbor heard them, and things keep getting moved or broken (two loaded apricot branches snapped), and I find little holes dug in the edges of the containers and raised beds. I am not happy to think that I'm spending money and working hard to provide the coons with delicacies -- especially when they are so wasteful with what they eat and so unwilling to leave enough for us.